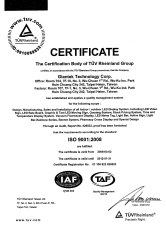 ISO- 9001
With the aim to assure that all products are of the stable and highest quality enabling to make customers satisfactory, Giantek has been working on the ISO 9001 quality system since the year of 1998 and approved by the TUV with the award of ISO 9001 certificate. It is proud to claim that Giantek is the first ISO 9001 certified manufacturer of LED display system in Taiwan.
It proves that Giantek has established and applied the quality system for Design, Manufacturing, Sales and Installation of Indoor / Outdoor LED Display Systems, including LED Video Signs, LED Rate Boards, Graphic & Text LED Moving Signs, Queuing Systems, Stock Pricing Systems, Time and Temperature Display Systems, and Special Designs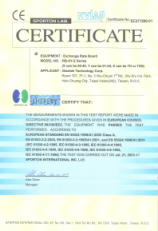 C E
In addition to the ISO 9001 quality system, Giantek has been working on the electromagnetic compatibility to assure the emission and the immunity against disturbances of Giantek products. So far, the Exchange Rate Board has been tested and passed. The other products are still under application.